Website Speed Optimization @ BoostSiteSpeed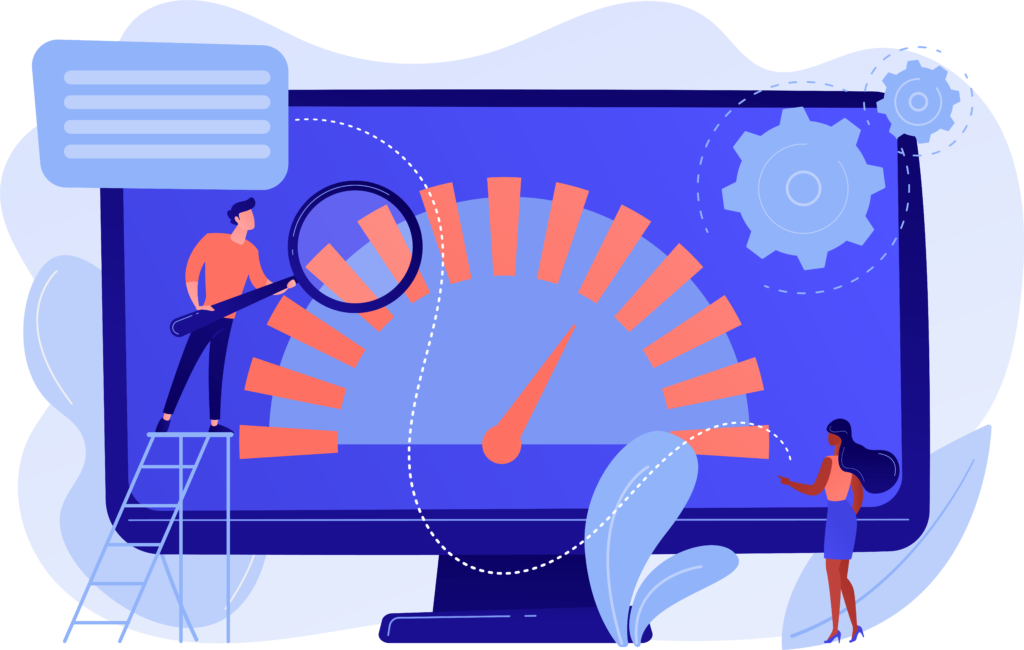 WEBSITE SPEED OPTIMIZATION @ BoostSiteSpeed
We Speed Your Website. Guaranteed!
BoostSiteSpeed works POST-PAID. We will optimise your website in entirety, and share the 'before' and 'after' Speed Report to prove the lightning fast improvement in your website speed!
In today's digital world, everything is associated with speed. It does not matter if you have the most intricate and great looking site that takes forever to load. There are several reasons why your web pages might load slowly, but regardless of the cause, today we will show you some beneficial methods and tips on how to ensure website speed optimization and a seamless user experience. You can hire BoostSiteSpeed elite speed specialists who will boost your website speed within 2 days!
Listed below are 3 key reasons why you should boost website speed:

Improved User Experience
A faster website will load quicker, making it more convenient for users. Users are likely to leave a site if it takes too long to load, which can result in lost potential customers. By boosting your website speed, you can provide a better experience for your users, and they are more likely to stay and engage with your content.

Increased Conversions
A faster website can lead to an increase in conversions, such as sales or sign-ups. Research has shown that slow websites can lead to reduced conversions, as users may become frustrated and leave the site before completing an action. A faster website can provide a better user experience, and users are more likely to complete actions on a website that loads quickly.

Improved Search Engine Rankings
Search engines, like Google, prioritize fast-loading sites in their search results. By boosting your website speed, you can improve your search engine rankings, which can result in increased traffic to your website. Additionally, a faster website can lead to a lower bounce rate, which can also help improve search engine rankings.
Boost Your Website: Pay AFTER!
In this beginners guide, we will break down the fundamentals of website speed and performance optimization, harness main methods to boost your website, and highlight some of the best tools available to get your site in front and at the centre on SERPs. You can pay BoostSiteSpeed Experts to boost your website speed and pay after you see the results!
Suggestions to boost your site in a systematic way for mobile devices
When we refer to 'boost your site', this not only refers to boosting your website speed. Boost your site also pertains to boosting your ranking on search results and on Google.
Choose keywords associated with your target market and use them to return search engine results. While choosing target keywords, don't forget the user intent.
Create better backlinks
Backlinks from other highly ranked sites can assist organically boost my site.
Optimization of on-page content
Excellent content depends on relevance. But it is also important to optimize your content for the search engines to boost sites speed. On-page optimization is an excellent way to enhance traffic and rankings for your website.
Boost sites speed
Website speed boost is a vital component of the user experience on any device. Google started integrating mobile page speed in 2018 as an aspect in search engine rankings, helping to boost sites speed an aspect in favorable results.
Website speed boost for conversions
Your returning customers are frequently your most invaluable asset. And your website has a major influence on whether your customers will return. 
However, website speed boost can make a difference. Latest research from Google says that even a bit reduction in the loading time of your site on mobile can enhance conversion rates and make video load faster.
You can boost sites speed by monitoring the actions they take on your website. Small changes can make a big effect, so this is an excellent place to start if you are planning to boost sites speed for conversions.
Measure and Track
The effective way to boost my site speed implies ongoing assessment and tracking to secure long-term ROI. Regular evaluation of boost my site speed endeavors assists to keep your conversion plan on track.
Image optimization by compressing the images
The aim of any image optimization strategy is to boost my site speed. And the only best way to do that is by compressing the images on your site.
Compressing the images is a vital component to boost my website speed. It is also vital to maintain image quality. This procedure can assist in getting your brand and product images to rank along with your content.
Consider Using a CDN
A CDN is basically a content delivery network. What is vital to know as I boost my website speed is that a CDN can enhance your user experience.
CDN can actually boost my website speed for web and mobile site visitors. They can also make your website more dependable, even during high traffic.
YEARS OF WEBSITE SPEED BOOST EXPERIENCE
PERCENT OF WEBSITE SPEED BOOSTED
'What is the best way to optimize my website?'
Are you wondering 'what is the best way to optimize my website'? BoostSiteSpeed has a complete audit of the pain points and site performance. There is no standardized solution to 'optimize my website'. But there are some common methods to boost your site. Let us have a look at them, but before that, you  should optimise your website for user experience.
Before you optimise your website, you have to define your target audience. Commence by getting your ideal customer:
How much they are ready to spend?
What services or products are they looking for?
What are their priorities?
A better user experience implies enhanced satisfaction, and can also impact search ranking. Enhancing UX needs you to first know what your user's goals, expectations and challenges are. You can gather these insights through user testing, surveys and interviews.
Create a flawless mobile experience
Boost your site for all the devices, not only desktops. This is specifically applicable for mobile devices as mobile covers more than half of the web traffic all over the world. Apart from enhancing loading times, when you want search for 'boost my site' you should consider the the mobile experience also such as:
Provide sorting options and filters
Make the icon or search box simple to find
Remove popups
Condense the menus
Are you ready to start generating revenue from organic search?
Get in touch with BoostSiteSpeed to chat with an expert from our SEO team about not only enhancing the search engine rankings of your company, but also gaining more revenue and boosting your website speed: instantly!
What is a great website speed?
Click here to flip over and see!
Research shows that the amount of time a user will spend waiting before leaving the website is almost 0.30 to 3 seconds. That implies you should try to show some content to the users within 3 seconds.
Keep in mind that while measuring page loading time, it is best to try to get as much information as possible, from all types of visits. For instance, you should have data for both mobile and desktop devices. The truth is you will possibly have to do additional work to get site speed test mobile, although the metrics for the desktop devices are well under the thresholds mentioned above.
Why is website speed vital?
Research shows that the time a user will wait before leaving the website is almost between 0.30 to 3 seconds. If your website takes longer than that to display vital information, the user will get tired and possibly leave the website.
Websites with faster speed will have low bounce rates, high ranking in organic search, high conversion rates, and obviously, they will have a better user experience.
The bottom line is slow websites can cost you money and will impact your brand. On the contrary, website speed optimization will positively affect traffic, sales and user retention.
That implies there is a complete range of steps you can take for website speed optimization, which I will explain later in the post. But before you commence troubleshooting for website speed optimization, you will have to test the loading time of your page.
You will know more about page speed in our post about the main website performance metrics that can assist in website speed optimization and enhance user experience.
What impacts site speed?
Click here to flip over and see!
There are several reasons why the loading time of your site may be lagging. It can be anything, but the most common factors are:
Slow network connection
Older browsers
Volume of traffic
Too many plugins and widgets
Not using browser cache
Big image sizes
Inferior server or hosting plan
JavaScript and heavy CSS use
How to assess website speed
Before making any kind of changes, it is vital to assess first. Measuring particular metrics will enable you to compare your website performance before and after the changes, and will let you know if your changes are really working.
There are several metrics that you can measure as the webmaster, but I would recommend emphasizing on the biggest Contentful Paint, Cumulative layout shift and first input delay. You can also use the Pingdom site speed test. This is one of the most reliable options for site loading speed test.
These three metrics are considered as the Core Web Vitals by Google.
There are various available solutions that you can use to monitor Core Web Vitals Metrics, like Sematext Synthetics, synthetic monitoring tool, Sematext Experience or our real user monitoring software.
"BoostSiteSpeed really came through for us when we were struggling with slow website loading speeds. We were worried that our website was turning off potential customers, but BoostSiteSpeed was able to optimize our website and improve the loading speed dramatically. Since then, we've noticed a huge difference in the user experience on our site. Visitors are engaging with our content more, and we've seen a drop in our bounce rate. But the best part is that we're now seeing more conversions than ever before. It's amazing how much of a difference site speed can make, and we're thrilled with the results. Thanks, BoostSiteSpeed!"
Client of company
"BoostSiteSpeed helped us to significantly improve the loading speed of our website. We noticed a significant increase in user engagement, with more visitors staying on our site and engaging with our content. Our bounce rate has decreased, which has also helped to improve our search engine rankings. Additionally, we have seen an increase in conversions, with more users completing actions on our site. BoostSiteSpeed has been a valuable investment for our business, and we highly recommend their services."
Client of company
"We had been struggling with slow website loading speeds for months and couldn't seem to find a solution that worked. That's when we found BoostSiteSpeed, and they really exceeded our expectations. They provided a comprehensive analysis of our website and made recommendations that we never would have thought of ourselves. With their help, we were able to optimize our website and improve the loading speed, resulting in a much better user experience. We've noticed an increase in engagement and conversions, but what really surprised us was how much our search engine rankings improved after working with BoostSiteSpeed. They truly know their stuff, and we're so grateful for their expertise. BoostSiteSpeed is an investment that's paid off in a big way, and we couldn't recommend them enough."
Client of company
How to boost my website on Google?
Every business admires its website when it first launches. But over time conversations and traffic may start sinking. Users may start posting reviews and sending messages about their frustrating experience.
Your website has the power to enhance traffic, conversions, and leads for your business. You can create customized experiences just like the way I did to boost my website on Google that can assist your customers convert faster.
Before putting time and endeavor in SEO strategies to increase my website speed, it is important to define particular results.
The sheer volume of methods, tools and strategies available to increase my website speed are too many. By realizing where your website is struggling and emphasizing your endeavors to address those deficits, you can actually get results just like I am able to increase my website speed.
What is website speed and performance optimization?
Click here to flip over and see!
It is a list of actions to optimize my website. SEO industry experts and service providers have different ideas regarding precisely what makes efforts to optimize my website successful. Many emphasize on using targeted keywords to boost my website for particular search items. And while this is beneficial and possibly lucrative, it is not sufficient on its own.
More tips to accelerate website speed
Backup your website before making the changes
Speaking of trying to accelerate website speed, it is vital to backup your site before making the changes.  It is because it makes it simpler to restore your site if your changes are not working the way you hoped.
Test and document changes as you upgrade your website
Apart from the tests mentioned above, you will want to run tests as you make changes to accelerate website speed.
While the right methods can assist to increase my website loading time, the ideal tools can assist to contour the process and give your team more time to emphasize on what matters and that is developing your brand.
All the information mentioned in this post will certainly help to increase my website loading time.